For this issue, we've invited 19 of the finest data visualization practitioners to create a visual, data-driven collection of their favourite meals. We call it The Data Cookbook issue. Issue 6 featuring: Adriano Attus, Alli Torban, Brendan Dawes, Darren Long, Ella Hollowood, Eric William Lin, Farah Ezz ElDin, Gabrielle Merite, Gurman Bhatia, Ivan Dianov, Kim Albrecht, Nadieh Bremer, Nino Macharashvili at ForSet, Ouma Odhiambo, Skye Moret, Surasti Puri, Valerio Pellegrini, Viola Bernacchi and Edwin Jakobs at RNDR, and the folks at Wild Mazzini.
The theme of the issue: activism in data visualisation. Featuring: James Carruthers, Beyond Words, The Pudding, Ed Hawkins, Sonja Kuijpers, Leslie Roberts and Paul Button.
The theme of the issue: truth and transparency in data visualization. Featuring: Matt DesLauriers, Signal Noise, Hassel Fallas, Jacopo Ottaviani, John Burn-Murdoch, Stefanie Posavec, Colleen McEnaney, Giovanni Magni.
The theme of the issue: time and temporariness. Featuring: Tyler Hobbs, Laurie Frick, Mike Brondjberg, Sabah Khaled, Peter Ørntoft & Johnathan Hopp, Domestic Data Streamers, Kantar Information is Beautiful Awards.
The theme of the issue: Spatial visualizations and the dataviz academia. Featuring: Paolo Ciuccarelli, Alessandro Riva, Alessandro Zotta, Claudia Pazzaglia, Marco Mezzadra, Serena Del Nero, David Hunter, SPIN Unit, Jonas Parnow, Maral Pourkazemi.
The theme of the issue: data visualization in music and arts. Featuring: Beyond Words, Bronwen Robertson, Stina Backer, Peter Crnokrak, Federica Fragapane, Valentina D'Eflippo, and Miriam Quick.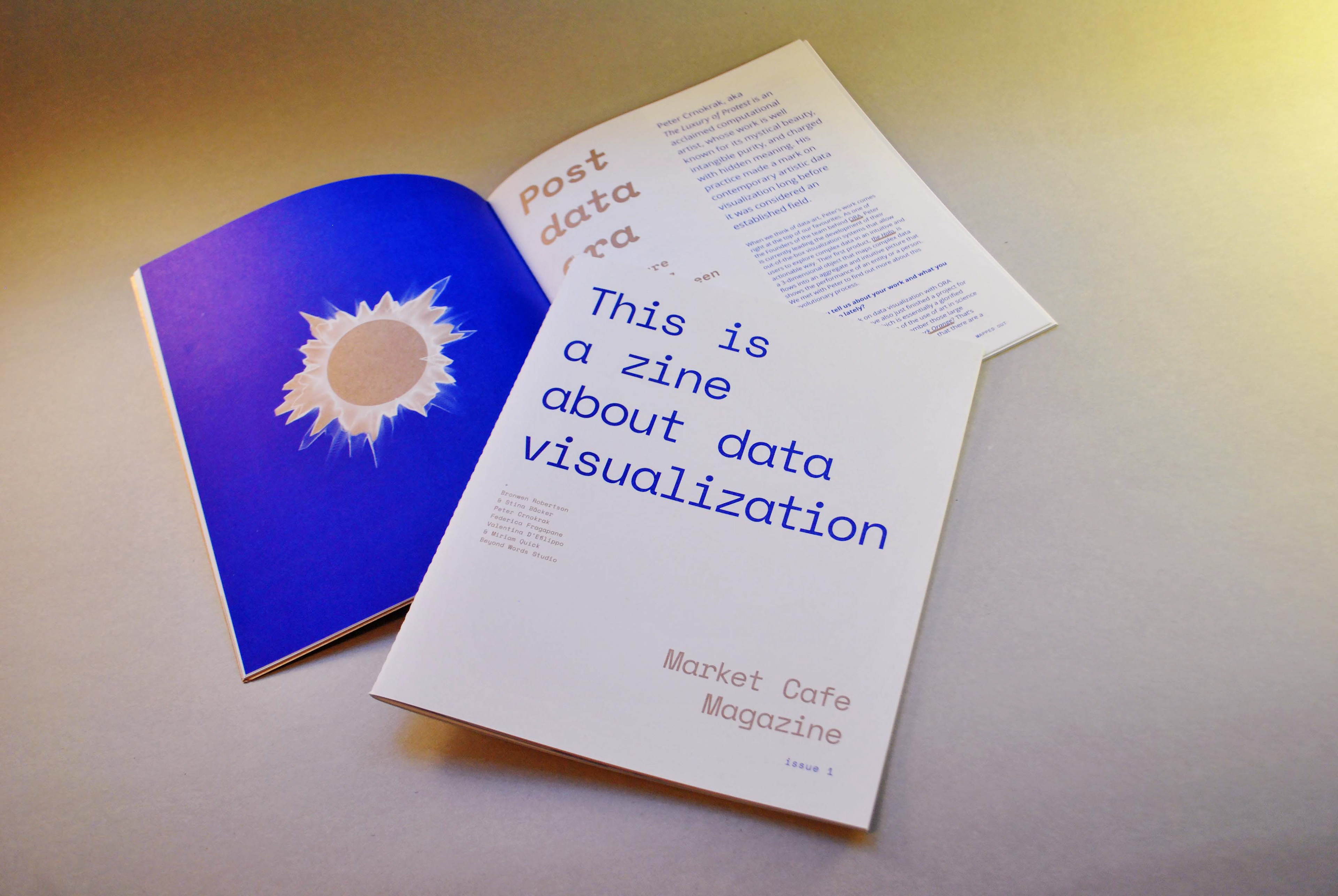 World's first zine about data visualization
Market Cafe Magazine is an award-winning zine about data visualization founded in 2016 by information designers and educators

Tiziana Alocci

and

Piero Zagami

. Reading Market Cafe Magazine you will hear from different voices about what designing information means and where it's going. Our mad research brought us to discover the most talented and finest people in the industry to guide you through this journey. Market Cafe Magazine is 100% independent, self-published and self-distributed in London. Market Cafe Magazine was awarded GOLD at the 2019 Kantar Information is Beautiful Awards.